Stickmen Picture Archive
Where we retire old photos
---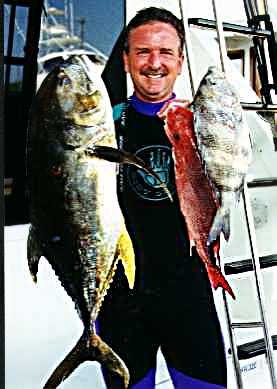 June 2001 - Mike with jack crevalle, red snapper and a sheepshead.
---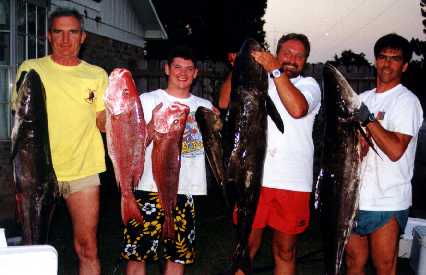 From left to right are Don, Alan Hansen, Mike and Bill holding up some award winning cobia and
red snapper taken during the 2000-25th Annual Alabama Open Spearfishing Tournament.
---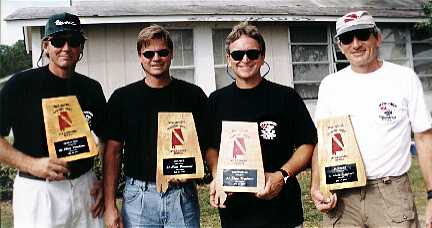 Happy Stickmen-Ray, Jack, Mike and Don in 1999.
---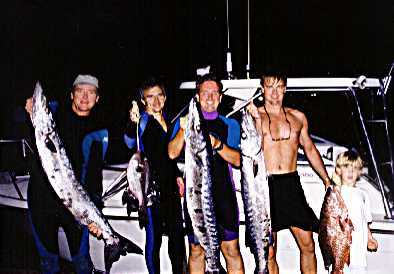 From left to right are Ray Dittenhoefer, Don Cooley, Mike Wade and Jack deVilliers.
Fish displayed are three great barracuda, a trigger fish and a snapper on the right.
---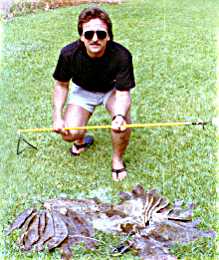 .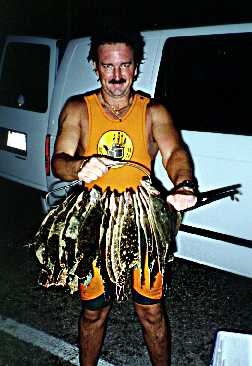 Mike with flounders in 1980 A short pole spear worked good in 1990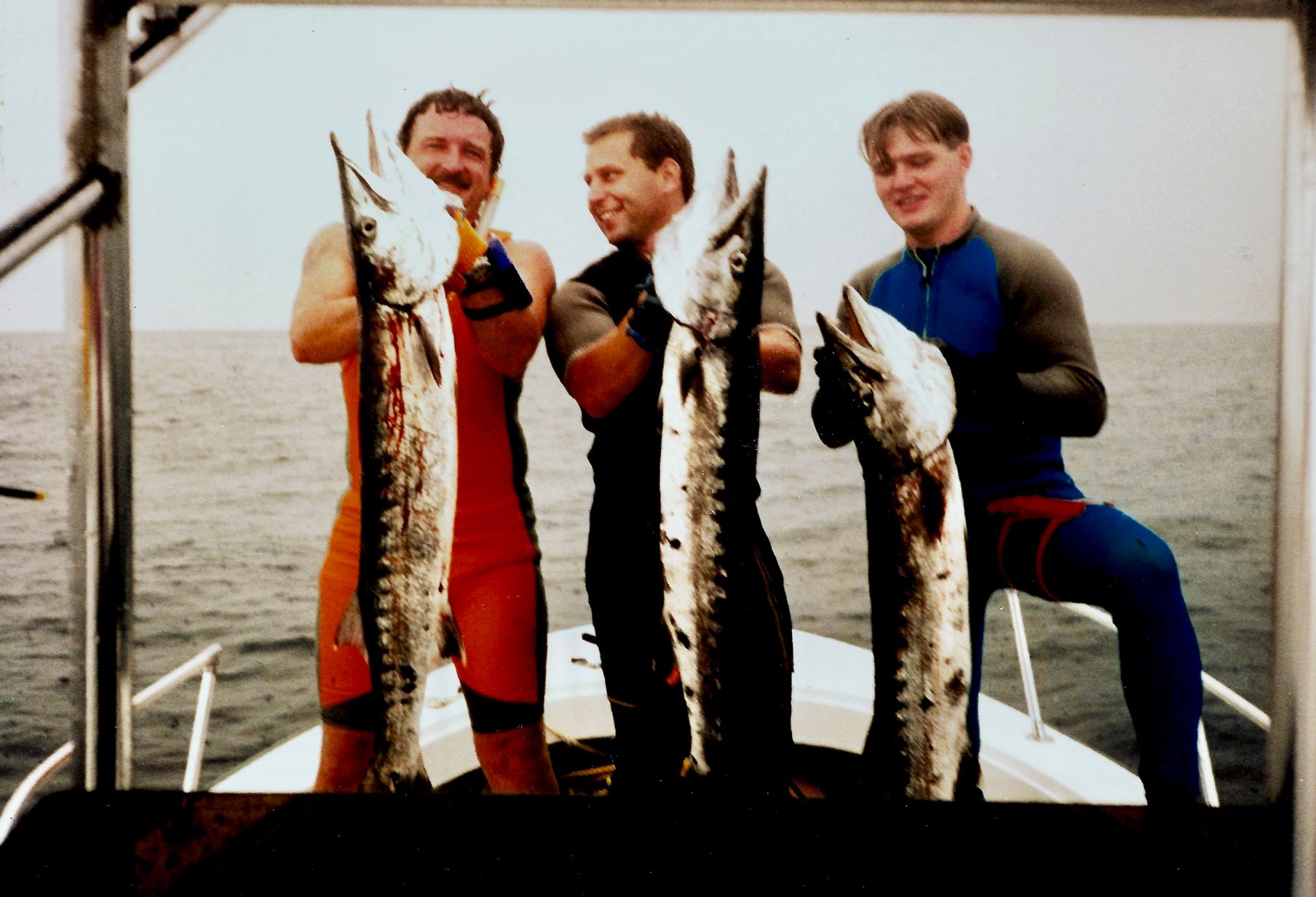 Mike, Emile Sliman and Michael Britt
July 30, 1993

---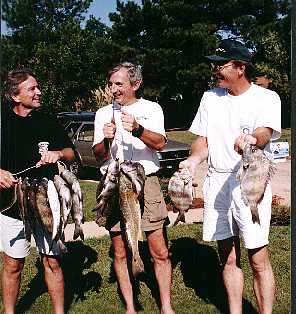 .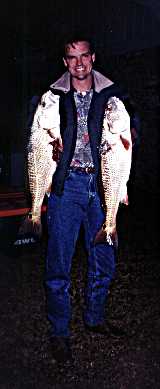 1999 Laughing Sticks-Mike, Don and Ray Jack with red fish in 1980
---
.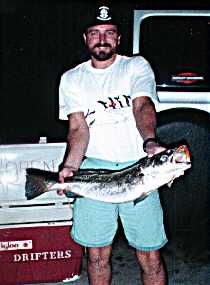 .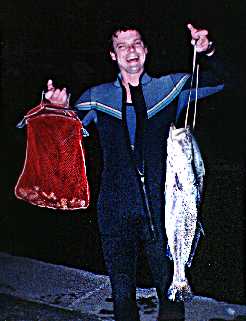 Mike with a 10.6 lb. speckled trout Jack with a 8.5 lb. speck
---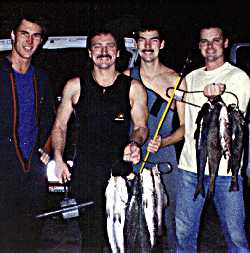 .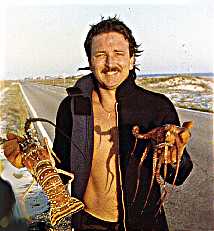 Barry & Mike Wade, David Mosner, Jack deVilliers Mike with lobster and octopus
---
--- FLOUNDER POUNDERS --->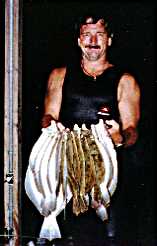 .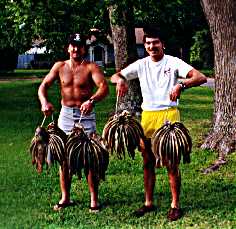 Whiskey Wreck flounders Mike and Dave's all night marathon
---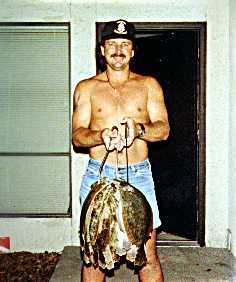 .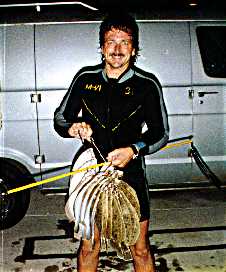 Mike with more flatties
---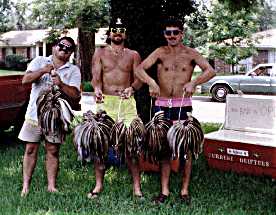 .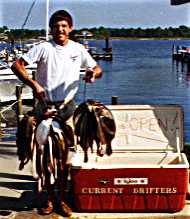 Burg Taylor, Mike Wade and David Mosner David Mosner
---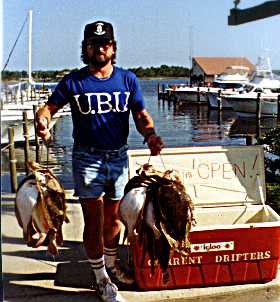 .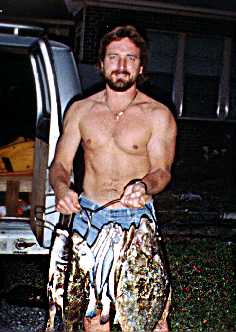 Mike with another haul
speckled trout and flounder
---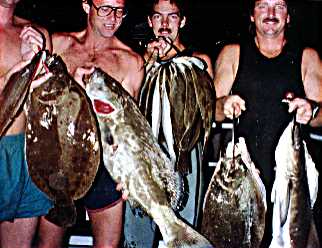 .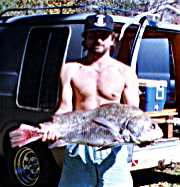 Jack, Rick, David & Mike with flounder, grouper and cobia Mike with drum
---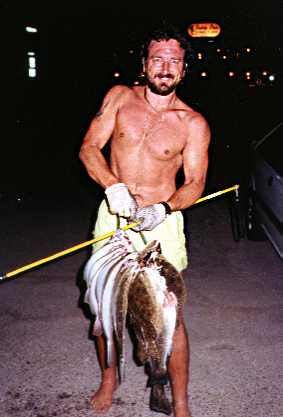 .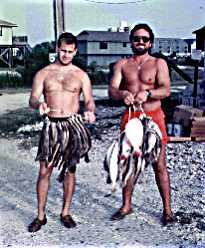 Mike with summer flounders 1992 Emile Sliman and Mike Wade 1989
---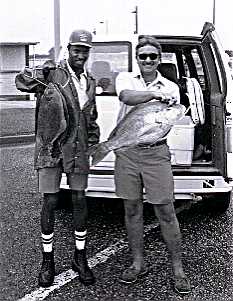 .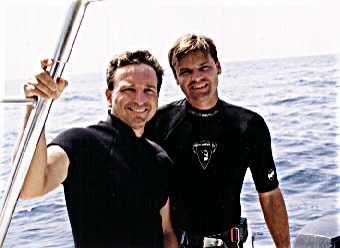 Mike making a sale at work. Mike and Jack - The First Stickmen
---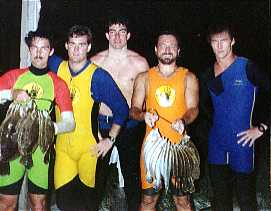 .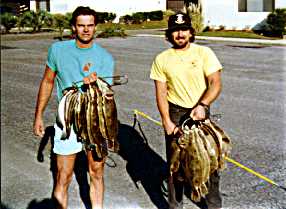 David, Andy, Brian, Mike and Barry Mike And Jack with flounder catch in 1980
---
STICKCHICKS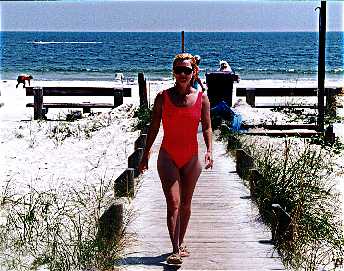 A fan of the Stickmen at the site of the "Whiskey Wreck", Gulf Shores, Alabama
The jet ski at the top of the picture just passed over the wreck.

---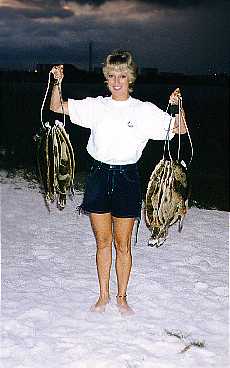 .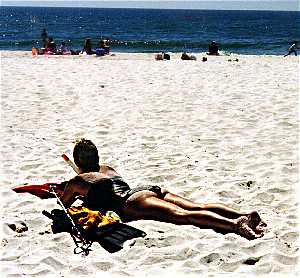 Stickchick Robin - Dive Tender The Sand Flea
---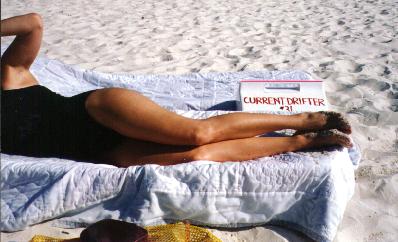 Worth the swim back from the Whiskey Wreck
---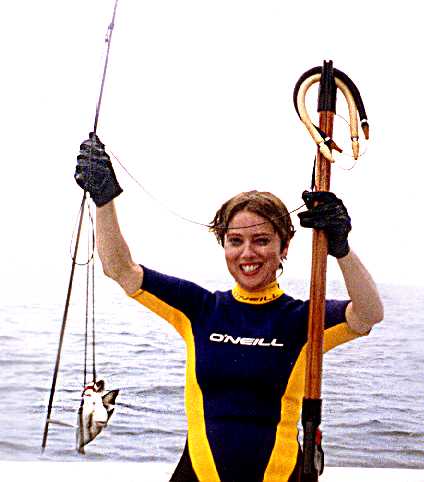 Stickchick Robin with her mighty catch.
---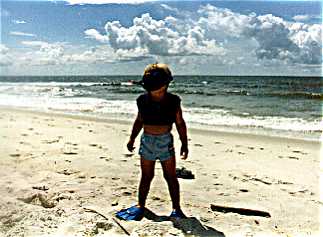 ...and this is how it all began growing up on the Gulf beaches of Alabama.
---
Back to the main menu