The Bluefish Incident
by Mike Wade
The following took place during the 27th Annual Alabama Open Spearfishing Tournament held on May 31 - Jun 2, 2002 in Orange Beach, Alabama.
I'd like to preface this story by congratulating all the Stickmen who competed in this years event and thank my wife, Robin for putting up with half a dozen tired and hungry divers at our house during the three days of diving. Thanks to Bill Crawford and Marcel Garsaud for keeping us supplied with some fine eating Jambalaya made Louisiana style and Matt's wife Sissy for the delicious pastries.
The Stickmen dived from three boats with the following crews. Bill Crawford's boat took Marcel Garsaud, Don Cooley and Sid Smith. Ashton Blessey's boat took Roger Garcia and the rest of us chartered Captain Bob Kelley, who took Jack deVilliers, Matt Rytting, Eddie Mayes and myself Mike Wade. This is the report from our boat named "Out Of The Blue", a 21' Cape Horn.
Friday morning comes early as we roll out at 0400 and meet at the dock at Dauphin Island by 0500. With gear and personnel loaded we head south amid 2-3 foot seas. Normally this would be smooth running but today it was wide open trying to be first to the best spots, which made for a bumpy ride.
In a couple of hours we had arrived. Ashton and Roger's boat would dive the first spot with us and we would then head out our separate ways.
I believe it was Matt who first broke the ice in this event by boating a barracuda and everyone else followed suit. We all shot fish the rest of the day on too many spots to remember. By the end of the day we had filled the boat cooler and another 120 qt. Igloo with amberjack, barracuda, cobia, red and black snapper, triggerfish and spanish mackerel. Ashton and Roger boated red snapper and a cobia as well, on his boat. It was fun swimming over to Ashton's boat to check out the fish. Ashton also shoots a 1st Place flounder, keeping the Stickmen tradition of placing a flattie.
The water visibility varied at each spot due in part to the recent rain. Sometimes there would be a murky layer of about 20' on the surface and get clearer below.
Friday was a very productive day and it wasn't over until all the fish that wouldn't be weighed in were cleaned. Some of us iced our fish down due to lack of time. We needed our rest for Saturday.
Some highlights of the day were when we all got into some barracuda and amberjack at the same time. I would hear Matt's gun go off and I sensed my shot was soon to come. On one dive, Matt and I were the first in the water and we began to circle the rig. I was left and Matt was back to my right. As I descended, I scanned the inside structure to my left. As I looked back around to the right, a trophy cobia had just swam beside me and was
now veering off to my right. I aimed and steadied my gun only to realize a shot now would only wound the fish hence passing on the shot. I can still see him swimming away in my minds eye.
On another dive, Jack had found some triggerfish and we were working the school. Eddie would swim down and shoot the first available fish and the the prey would swim up to check it out and "wham bam" got another one. We all shot triggers, category filled. I later shot a barracuda and we limited out on amberjack.
Saturday arrived to the same regimen. The only difference today is that there is a major SKA Fishing Tournament competing with ours. Boats were lined up for a mile to launch. Our Captain, Bob had wisely arrived to launch in the wee hours of the morning and was parked at the dock when we got there. It was fun watching the confusion as we motored out. The SKA is a shotgun start, so you can imagine the looks we got as we beat them out of the channel... hello lighthouse.
Today we would be diving in another area hoping for clearer water, unfortunately that did not happen. Most of the day was spent diving in murk with at best 20 foot visibility. We were not hindered. Jack, Matt and myself were on one dive when I watch as Jack nails a barracuda and it was not a stone shot. I saw Jack disappear under a cross pipe and out the other side. "WOW" I thought, Jack is getting a ride. Before long he has to use his reel and now at the surface. I continue to hunt as he deals with his fish, checking on him after every dive. When I swam over to his gun on one of his retrieval dives, I notice the fish had spooled him to tune of about 80 feet. I chuckled at the work he had just created for himself and secretly hoped he would be busy until I could find my fish. After a few dives and some help with "hold my speargun" he has his fish. It turned out to be the 2nd Place
Barracuda. We make a few more dives and move on.
We ride along choosing and picking our way through the rigs until we come to a big triple rig. Boats were all over it. We slip in to the dirtiest, muddiest, most nasty spot I've ever seen. I warn Matt that this is toxic water, try to stay out of the mud being pumped up by the drilling. He acknowledges and we slip in. Matt and I work our way through the first pod and finally see some small sheepshead. We move onto the main middle section looking for bigger ones. Instead we encounter a school of bluefish. I make several dives trying to pick a big one and finally make a shot. It's a gut shot, so I frantically work it in so that I can contain it. As it gets to within 5 feet of me, it makes a beeline to my right arm and latches on. My first thought was, "I won't be losing this one". The next sensation was the excruciating pain of the two rows of teeth snacking on my arm. "Ouch!", that hurts, I thought. I immediately grabbed the fish in the gills with my free hand and squeezed with all my might thinking it would release a bit. It bit down harder! Having had enough, I snatched it from my arm (all this happened in about 2 seconds) and began swimming to the boat which was now 50 yards away. I see Matt as I'm returning and yell "Matt, big bluefish below, be careful they bite" and showed him my arm. He smiles and continues on to get his. I swam like crazy to the boat. When I arrived, Jack and Bob were there as I handed up my fish. "Nice fish", Jack exclaims. "Not as nice as this bite", I reply and they both looked in amazement as the blood was gushing from my arm. Apparently the fish had bitten through some veins.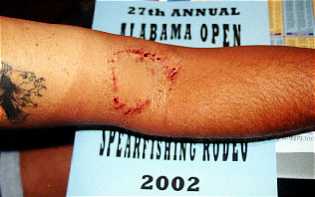 Capt. Bob was Johnny on the spot with the first aid. After a lot of pressure on the wound, we were able to control the bleeding. "No more diving for you today", the Captain ordered. This was disappointing news.
We motored around to the other side to check on Matt. He was working hard so Jack, Bob and myself enjoyed some good scenery while sitting in the shade and it was not Matt. After another 30 minutes or so, Matt comes up with his award winning 3rd Place bluefish.
The last stop of the day was a dirty water close in rig. Jack and Matt would dive here. Bob and I play deck hand as they dive. Matt shoots a red snapper and we call it a day.
The next order of business is weighing our fish in. We get this accomplished and run into Dr. Blessey at the weigh in. He inspects my wound and immediately calls me in a strong antibiotic to prevent infection. I don't know what I'd do without this guy! I probably wouldn't have given the bite the time of day other than alcohol and neosporin.
The Stickmen meet up later at my house and we feel good about our fish, then the cleaning begins for the next couple of hours.
By the end of the tournament we had secured four trophies. Ashton Blessey with 1st place flounder, Jack deVilliers with 2nd place barracuda, Matt Rytting with 3rd place bluefish and Marcel Garsaud breaks a record with his 1st Place bluefish.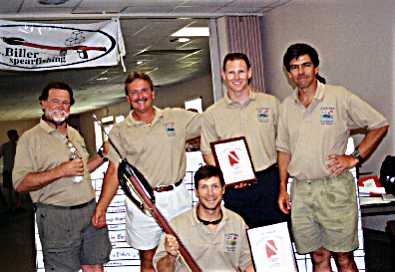 Sid, Mike, Marcel, Matt and Bill
Thank you to all the Stickmen who were guests at our house and for making this the most memorable tournament ever. I could not want for a better team and have a feeling that it is only going to get better!
We are going to give the Hell Divers a run for their money next year as we missed team award by 4 points or 2 trophies. Then again, with excess of 100 divers competing, second place ain't bad.