Flounderwear Merchandise For Sale
For the "Friends of the Stickmen"
If you would like to support our team while enjoying a one of a kind
high quality 100% cotton beefy-t team Tee and/or Sweat Shirt, please send
$20.00 for hats - $25.00 for tees - $50.00 for sweatshirts
Price includes shipping. Make check payable to:
Mike Wade
Specify adult S-XXL.
(Please allow 4-6 weeks for delivery)
Our shirts a redesigned every year.

"Instructions for ordering Flounderwear"

1. Click on email link below item.
2. In the text area, put the number of items and size.
Provide your name, address and telephone number.

---
Stickmen Team Shirts
New 2008 Shirts Coming soon.
Click Here to Order Team Shirts
---
Stickmen Team Hats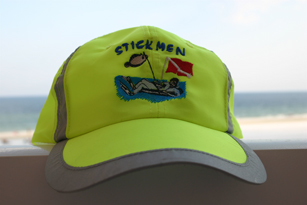 Classic Stickman Neon Reflective Hat
SOLD OUT

---
Stickmen Sweat Shirts

Classic Sweatshirt.
Will be reordering in the fall.
Click Here to Order Team Sweat Shirts


---

Back to the main menu