Alabama Point - December 2002
---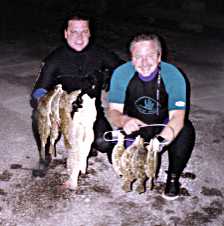 Jack with flounders and red fish - Mike with some smaller flounders.
Mike's were perfect for a fish imprinting project.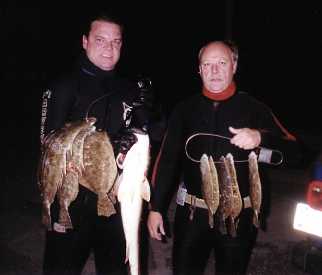 Jack and Trip de Villiers
Read the story here ---> December Night Dive

---
August 2002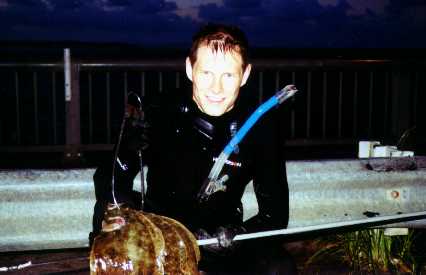 Matt Rytting with some nice August flounders.
Read the story here---> August Night Dive

---
39th Hell Divers Rodeo
June 9, 2002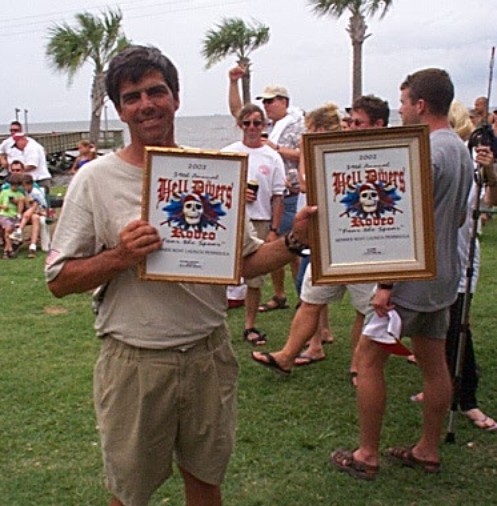 Bill Crawford
Hell Divers King Skin Diver
Also winner of 2nd place mangrove snapper and 3rd place cobia.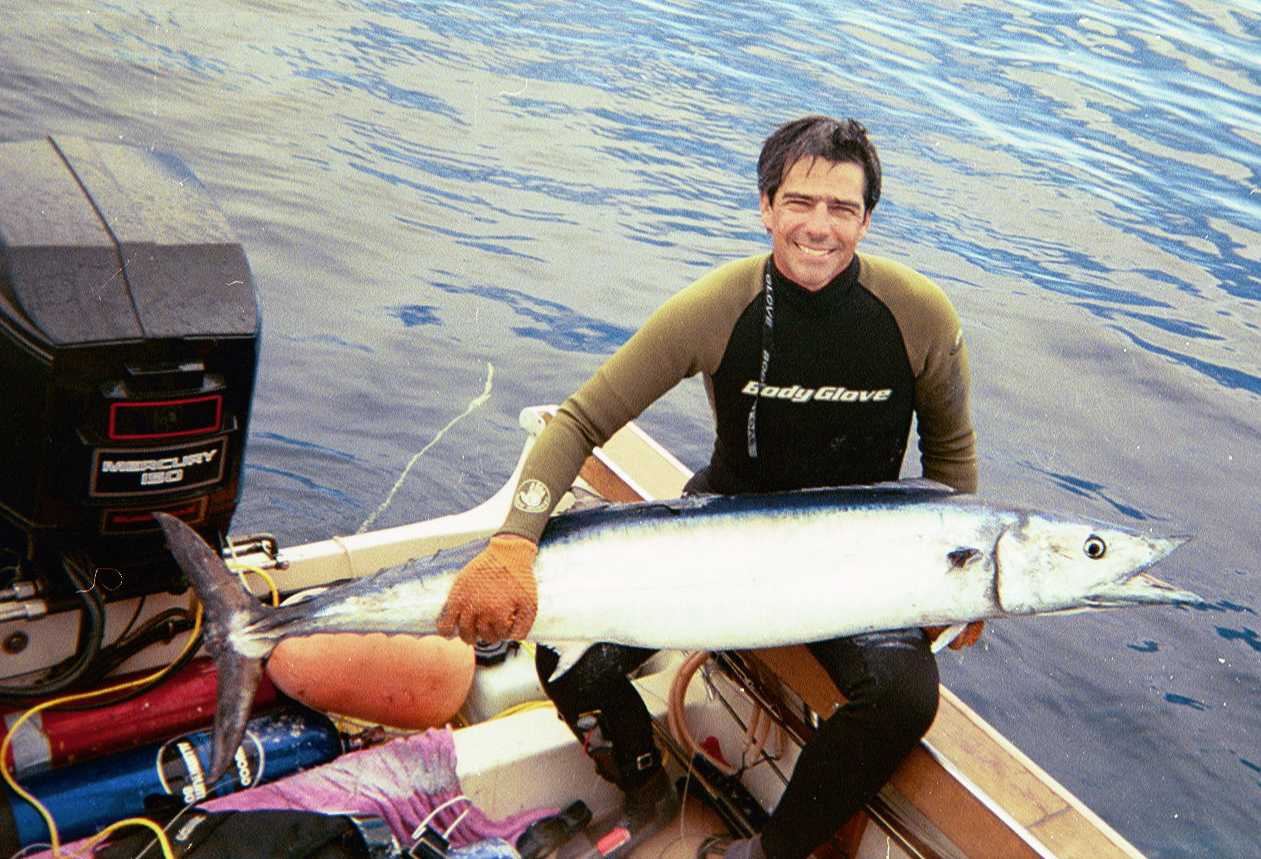 Bill Crawford with a #80 wahoo.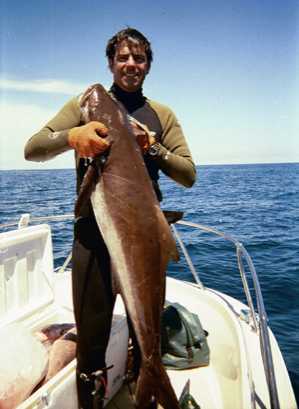 Bill Crawford with his 3rd place cobia.
.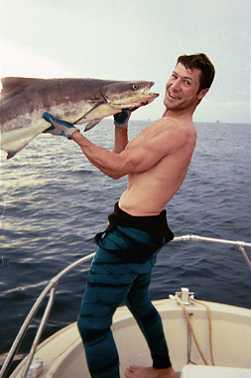 Marcel Garsaud with a wahoo on the left and a cobia at the right.
Were these guys having fun or what?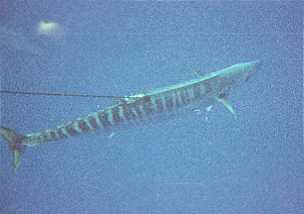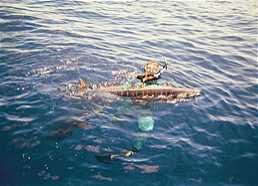 . .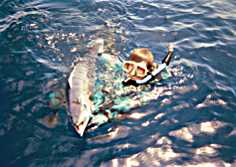 Marcel swimming back with the wahoo.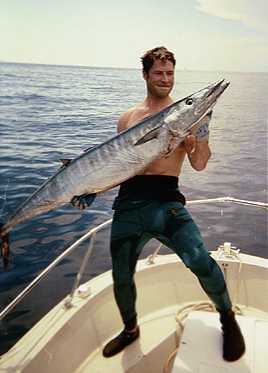 Look what I found.
---
27th Alabama Open Spearfishing Tournament
May 31 - Jun 2, 2002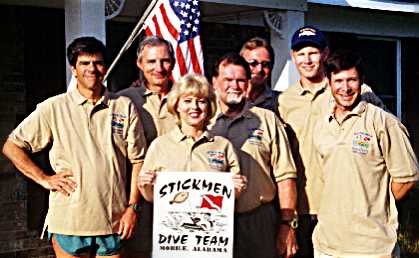 A special thanks to my most gracious wife, Robin for putting up with half dozen
tired and hungry divers every evening. She is my guardian angel!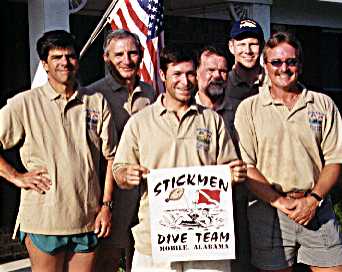 The Stickmen are Bill Crawford, Don Cooley, Marcel Garsaud,
Sid Smith, Matt Rytting and Mike Wade
(Missing are Jack DeVilliers, Ashton Blessey, Roger Garcia and Eddie Mayes)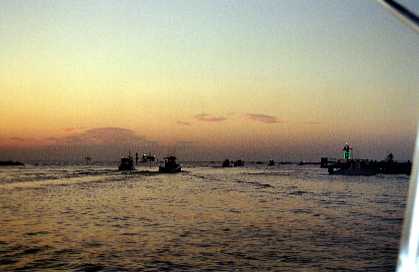 Heading east from the dock at Dauphin Island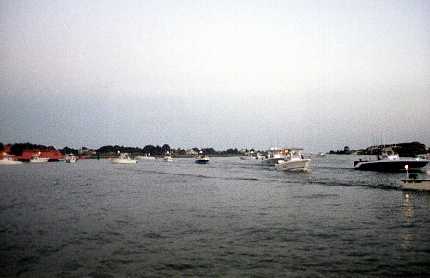 Looking back at the boats of another fishing tournament waiting for a shotgun start.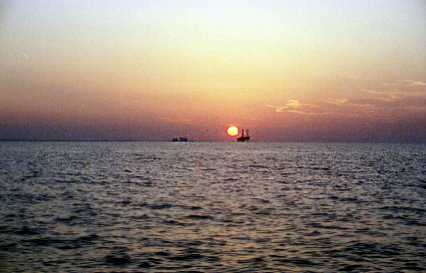 A rig silhouetted against the rising sun on our way out.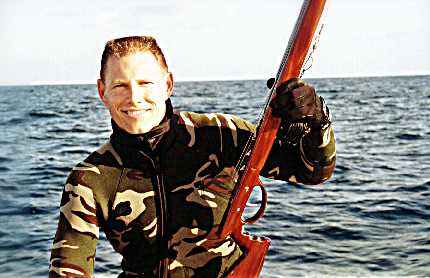 Stickman Matt Rytting aka Raven, Top Gun, Rascal and Speed racer.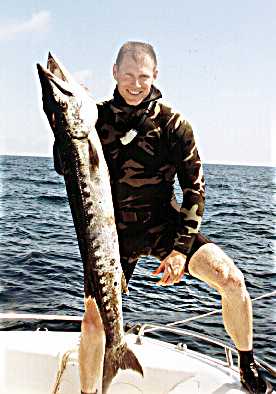 .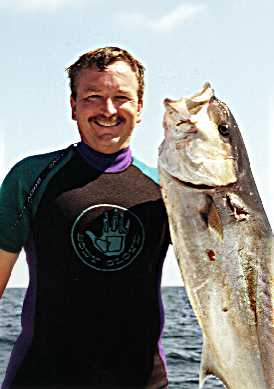 Matt breaks the ice on day one with a barracuda, Mike gets an amberjack.

Jack with his 34.9 lb. 2nd Place barracuda.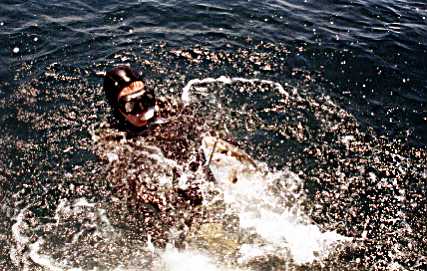 "Speed racer" Matt Rytting making a splash with an amberjack.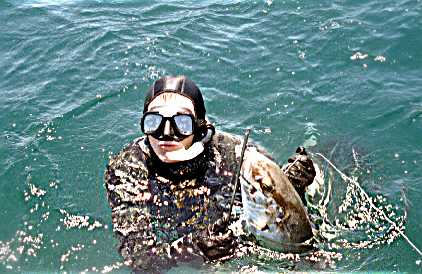 "Top Gun" brings in another one.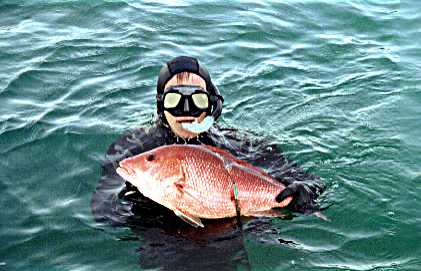 Matt with a red snapper. This was a busy diver.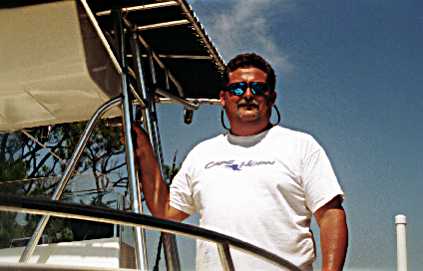 Meet our boat Captain, Bob Kelley a hard core fisherman.
A picture from Bill Crawford's boat.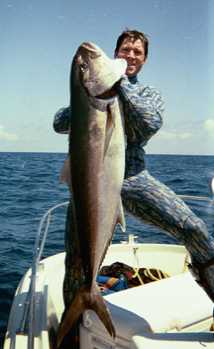 Marcel with a #50 amberjack.
Pictures from Ashton Blessey's boat.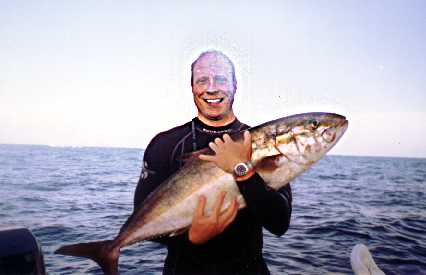 Ashton with an amberjack.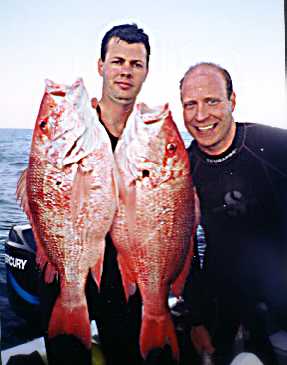 Ashton and his buddy with a couple of good red snapper.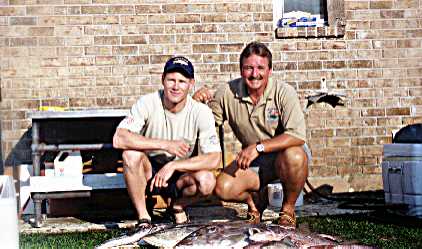 Some pictures had to made at home. This pile of fish was shot by Matt on one day.
Now multiply that by 10 divers for 2 days and you can imagine how many fish
the Stickmen put on the menu for many meals to come.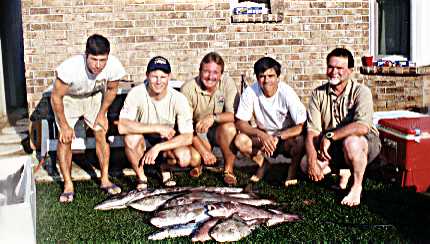 Marcel, Matt, Mike, Bill and Sid over Matt's catch of the day.

---
Awards Day at Orange Beach, Alabama - June 2nd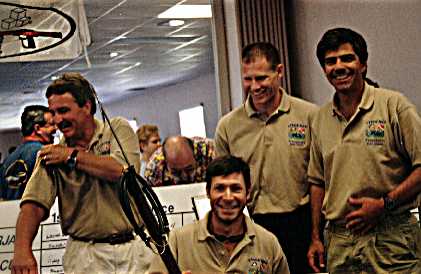 Mike trying to show off his blue fish bite with Marcel, Matt and Bill.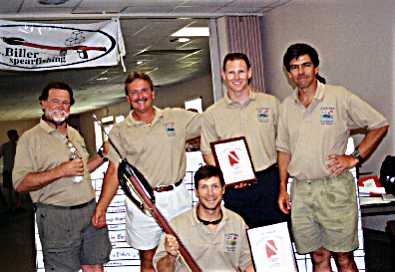 Matt and Marcel, two of our four winners. Jack and Ashton had other obligations today.

Stickmen at leisure.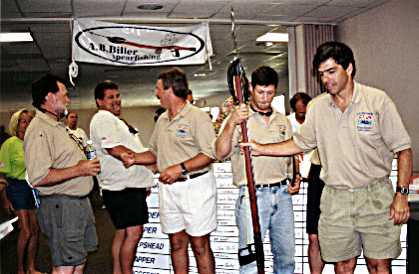 Marcel inspecting his prize. Capt. Bob and his better half Kelly in the background.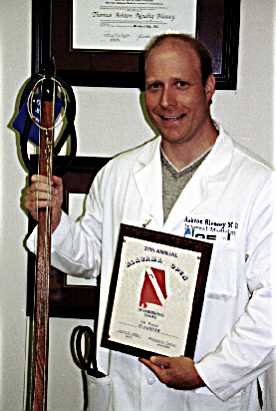 .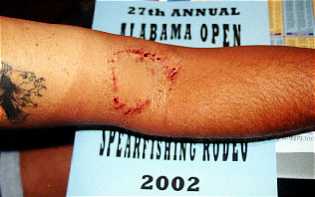 Dr. Ashton Blessey wins 1st place flounder and attends to Mike's bluefish bite on Saturday.
Read the story---> The Bluefish Incident
---
Diving with the Louisiana Stickmen
April 21, 2002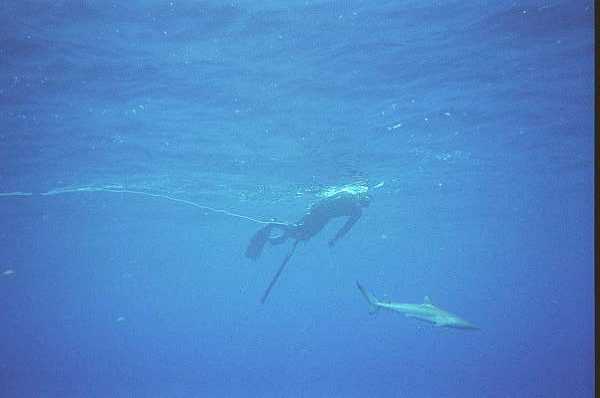 Hummm!

---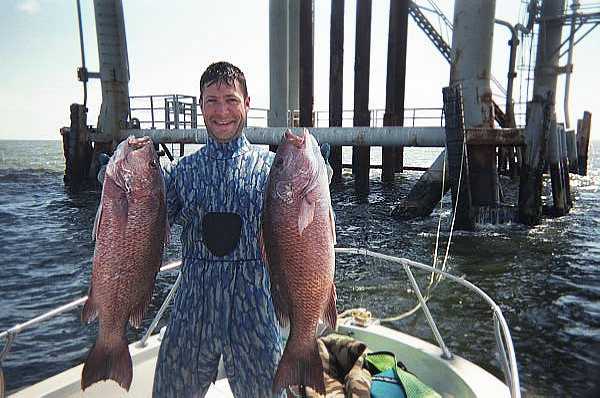 Marcel Garsaud with some nice snapper.
---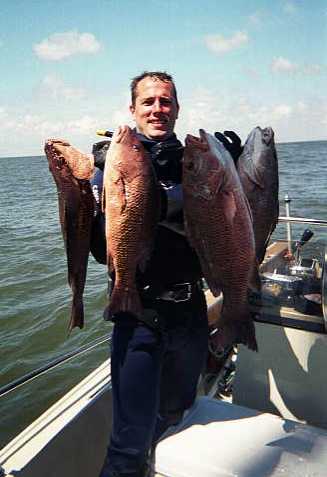 . .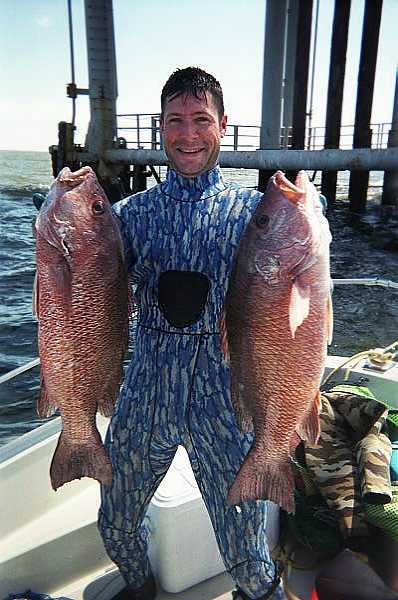 Russ Karnap Marcel Garsaud
---
May 4, 2002


Jack and Mike meet Eddie Mayes and wife Tara

---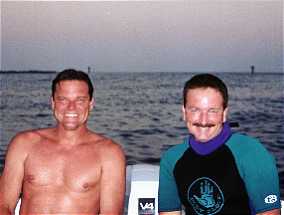 Stay tuned... more to come.
---
Click here to visit and sign our Guestbook!